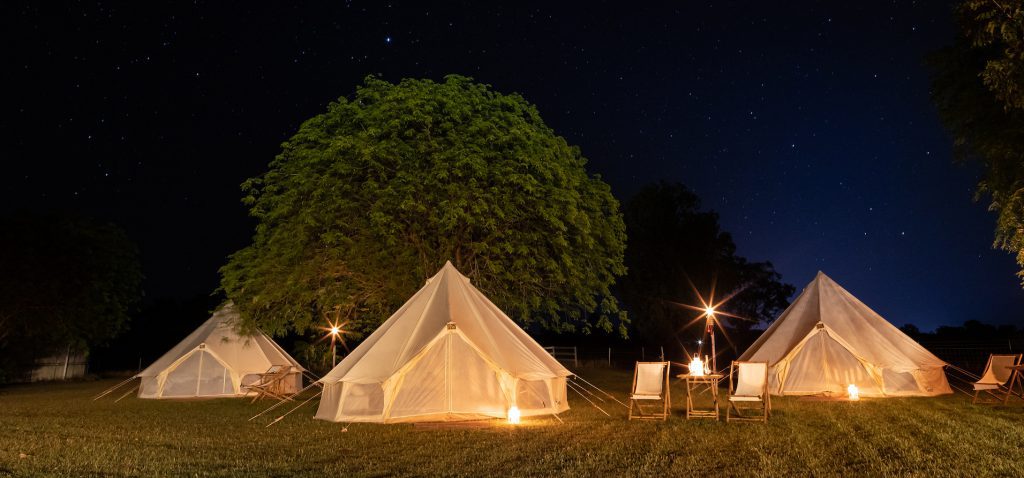 Katherine Outback Experience Glamping
Katherine Outback Experience is excited to now be offering an exclusive outback glamping experience thanks to FlashCamp at our beautiful operating farm, nestled among stunning shady trees and expansive green lawns.
The spacious 5m bell tents are perfect for couples or friends with the option of a king bed or twin share in addition to some luxury outback comforts.
Make your days as relaxed or adventure-filled as you desire and spend your evenings watching a stunning Top End sunset as you cosy up around the communal campfire in the exclusive campground.
Single and multi night packages are available. Alternatively guests are welcome to plan their own Katherine adventures with so many amazing places to visit and things to do right on our door step.
The booking system and available packages will load shortly below. Please wait a few extra moments if it is not showing instantly. 
Unfortunately, no. We understand how important pets are, but, we are an operating farm and must be mindful of the animals that call our farm home. Unfortunately, there are just too many risks with bringing
outside animals onto our property.
Yes. Our amenities block consists of showers and toilets, with a universally accessible disabled access bathroom. Despite being communal, they are kept exceptionally clean, have a modern outback twist and added comforts. We receive many compliments about the facility including the hot water and added comforts. 
No, we do not currently have mains power in the tents. Lights run off solar power and fans are pre-charged. 
Our Kitchen and Amenities block have access to power. You are more than welcome to use these facilities to charge devices.  
Yes, you are more than welcome to bring your own alcohol. We have fridge space available for you to store your alcohol upon request. 
If you plan to purchase alcohol in Katherine, there are a few things you should know. Opening hours for bottle shops are:
Police are stationed at all bottle shops and will ask the following: 
To view you current ID (i.e. Driver's License or Passport)
To confirm where you intend to consume the alcohol – in this instance it will be at Katherine Outback Experience at 115 Collins Road, Uralla

 
This initiative is designed to decrease the black-market trade of alcohol being sold into dry Communities throughout the Top End and the monitor of the Banned Drinker's Register. 
No. Our tents are currently only available for bookings during our Dry Season months from mid-May to mid-September. It can become quite cool overnight during the Dry Season. 
We encourage guests to get out and about in the heat of the day to experience our amazing region including the local water holes, attractions, and cafes. 
Yes. Our tents are best suited for two people however, we can re-configure the layout to accommodate children also. Please keep in mind that this will reduce the space inside the tent, and may take away from the overall experience. We do limit our tents to a maximum of four persons in total. 
Our tents and packages are designed and priced for two adults as this is the most common booking type we receive. When a child is added to the booking, we must physically reconfigure the inside of the tent. It often results in taking one of our other tents offline to cater for the extra bed/s required. 
We are approximately a 7-minute drive east of the Katherine town centre just off Stuart Highway. We are located at 115 Collins Road, Uralla. You can pop our name or address into Maps and it will direct you straight to us. 
No. Due to the seasonality of the Top End, we only operate the tents from mid-May to mid-September.  This is the best time to visit the Katherine Region when the days and nights are cooler. 
Absolutely. Please ensure you notify us of any dietary requirements you may have prior to your arrival so that we can cater appropriately for you.
Unfortunately we do not allow camping other than that of our Glamping tents. Our campground is only dedicated to our Glamping tents. Our insurance does not cover other forms of camping. We pride ourselves on the experience we offer our guests, and unfortunately opening our camp ground to other campers takes away from the private Glamping experience. 
Absolutely. We have a communal kitchen available for you to use throughout the day. 
We also have some fridge space for you to store your food. Although space is limited, we will endeavour to do our best to accommodate you and your needs. Please be mindful that some guests include dinners in their Glamping packages which is served in the communal Kitchen/ lounge space. 
No. We provide all linen and towels.
Yes, however you will need to zip up the door and windows to stop the water from coming in.
Our Breakfast is served from 7:30am to 9:00am. You are welcome to help yourself to a hot drink, cereal, toast or fruit prior to then. Please let us know if you have any special requests.
We have a range of activities and experiences for our guests. You can choose to see our Outback Show, participate in our Stockman's Workshop (if available), go on a group horse ride, and visit our animals. We pride ourselves on providing a genuine outback experience.
We encourage guests to get out and about during the day to experience our amazing region. Please chat to one of our friendly staff who will happily assist with great places to visit and things to do.
There are no locks on the tents, but rest assured the campground is very secure and tucked away on our property where the only foot traffic is our friendly staff and fellow Glampers. We are more than happy to securely store valuables in the office.
Yes. We have ample space for you to park your car on our property, with easy access to the road. 
Yes. Our Glamping tents come fitted with a fly screen. To decrease the chance of insects or other uninvited guests from entering, please keep the fly screen closed at all times. 
During the Dry Season months in which we operate the tents, maximum temperatures generally range from 26 to 36 degrees with average overnight temperatures ranging from 8-18 degrees. July is generally our coolest month with May and September being warmer months. 
We are more than happy to discuss alternatives such as a Stockman's Workshop or Horse Ride instead. In this situation, we manage things on a case-by-case basis, and are more than happy to discuss options further prior to your arrival. 
Yes. Our animals love attention. Be sure to ask one of our friendly staff members before visiting the animals. Your safety and the safety of our animals are our top priority.
Our tents have a 5m diameter. They are surprisingly spacious on the inside, giving you approximately 20 square metres of space. 
Absolutely. We have a range of experiences available to our guests such as horse riding, our Outback Show, and the Stockman's Workshop. You can send us an email at bookings@katherineoutback.com.au or call us on 0447816222.
Cancellations within 15-30 days of booking dates will forfeit 50% of the total cost.
Cancellations within 3 to 14 days of booking dates will forfeit 75% of the total cost.

 

No refund will apply to cancellations within 72 hours of booking dates.
COVID related cancellations are a different kettle of fish and we are willing to discuss this on a case-by-case basis.

 
Children 5 years and under are not permitted to camp.

 

Bookings are not confirmed until full payment is received.

 

A $100 security bond is required at check-in for damage or theft of items.

 

Katherine Outback Experience reserves the right to alter Outback Show timings and/or other items on itinerary without compensation if operationally required. Although, we endeavour to do our best to organise alternative timings or experiences if required.

 

Your experience is important to us. Our goal is to give you an Outback experience like no other.

 
Your experience is important to us. Our goal is to give you a genuine Outback Experience.
No trip to Katherine Outback Experience is complete

without these exciting optional activities